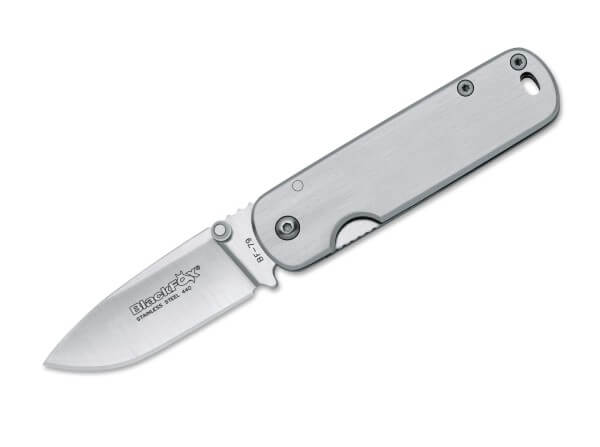 $46.95 *
* Sales tax and shipping costs will be charged separately.
Brand:

BlackFox

Type:

Pocket Knives

Overall Length:

5.59 in

Blade Length:

2.36 in

Blade Thickness:

0.09 in

Weight:

2.61 oz

Blade Material: 440A
Opener: Thumb Stud
Opening:

Manual

Lock Type: Linerlock
Made in:

Europe

Color:

Silver

Item Number:

01FX032
The classic full steel design with its brushed handle represents a beautiful engraving surface on the front and reverse sides. Flat construction. Linerlock mechanism. Shipped in a gift box and with leather quiver pouch.
read more
Reviews for "F-79"
Write a review
Reviews will be activated after a verification.
BlackFox
With BlackFox Fox Knives offers a huge amount of models for any different kind of use. All models have one thing in common: An excellent price-performance ratio. Italian construction, high quality materials and a variety for any application makes BlackFoxs range of knives very interesting. Lots of models were designed for hunters or outdoor-friends as well as for professional users or everyday carry.
With BlackFox Fox Knives offers a huge amount of models for any different kind of use. All models have one thing in common: An excellent price-performance ratio. Italian construction, high... more
Show products