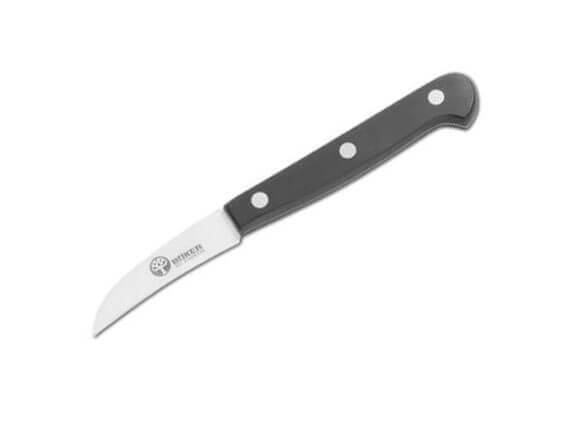 $16.95 *
* Sales tax and shipping costs will be charged separately.
Type:

Kitchen Knife

Brand:

Boker Arbolito

Overall Length:

6.25 in

Blade Length:

2.50 in

Blade Thickness:

0.05 in

Weight:

0.99 oz

Blade Material: 440A
Handle Material: Synthetic
Lock Type:

Fixed

Made in:

Argentina

Color:

Black

Blade Color:

Uncoated

Item Number:

03BA5703
Free Boker Travel Mug & a free Bobble Hat 1869 Black
*1
Giveaway 2022 | Free Travel Mug & Free Beenie
From an available order value of  $250 * you will receive a Boker Travel Mug & a Boker Bobble Hat 1869 Black worth $31,95 for free.
*Redeemable only once per customer and only while stocks last.
Only valid for items available for immediate delivery.
*1 Offer valid until 15/12/2022
Arbolito Classic Peeling Knife with a 2 1/2" blade of 440A stainless steel , and lightweight black Delrin handles, for a comfortable grip.
read more
Reviews for "Classic Peeling Knife"
Write a review
Reviews will be activated after a verification.
Böker Arbolito
In the Boker Arbolito Manufactory in Buenos Aires we are producing handmade high quality knives with the best materials, specially focused on hunting and outdoor knives with handle scales out of wood and stag. Either for professional use, sports and everyday carry or ambitious collectors, the traditional knives from Argentina are up to every task.
In the Boker Arbolito Manufactory in Buenos Aires we are producing handmade high quality knives with the best materials, specially focused on hunting and outdoor knives with handle scales out... more
Show products