Cocobolo Wood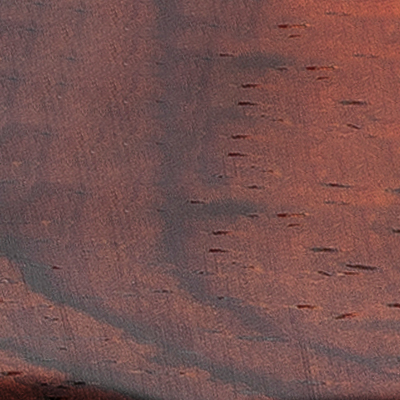 Cocobolo is a type of wood used for the production of knife handles. It has an orange-red hue that becomes much darker with processing. Most Cocobolo knife handles have a rich dark red color.
Cocobolo is the trade name for the lumber of several related Dalbergia or rosewood species. Most of the wood marketed as Cocobolo comes from the Dalbergia retusa, a mid-sized tree that grows to a height of 15-20 meters. It can be found on the Pacific coast in Central America from Mexico in the north to Panama in the south. The freshly cut heartwood of the Dalbergia retusa shows a wide range of colors from dark orange to a rich dark red. The young sapwood, on the other hand, is still light yellow. Only the dark heartwood is used to make knife handles and other high-quality wood products. Cocobolo is a hardwood that is difficult to split yet easy to process. Cocobolo wood is characterized by its irregular, slightly wavy grain and somewhat variegated coloring with lighter and darker sections. They create a beautiful texture reminiscent of marble.
Cocobolo has an exceptionally high oil content that gives the wood an intense floral scent. Thanks to this high oil content, Cocobolo holds up well to moisture. Processed Cocobolo wood has an exceptionally smooth surface that can be polished to a high gloss.
The warm, intense color and striking texture combined with favorable physical properties make Cocobolo wood a popular material most often used for wooden elements that need to be decorative but also stand up to intensive use – knife handles, for instance. Apart from entire items made from Cocobolo, this tropical hardwood is also very popular for inlays.