Damast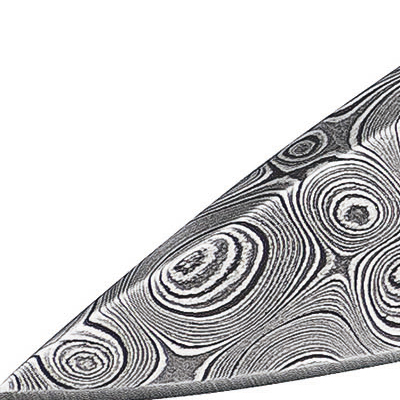 Damascut steel is the name of a type of steel that was very popular in the Middle Ages and the Early Modern Age. It was named after the Syrian city of Damascut, a former trade center for knives and swords with this type of blade. Today, Damascut steel is rarely used but still appreciated for its decorative exterior.
Damast is a composite steel, i.e. a steel made from two or more steel bases with different characteristics. The finished product has a clearly visible texture of alternating layers of its base materials. Two or more types of steel are used to make a composite in order to achieve a finished product that combines their strengths. Damast steel was developed to compensate for the disadvantages of steel as a material in the production of swords, knives and other weapons. Using a hard or soft steel to make blades resulted in specific advantages and disadvantages: Blades made from hard steel are very strong and retain their edge for a long time, but they are also brittle and quick to break. Blades made from soft steel, on the other hand, don\'t break but bend and lose their edge quickly.
The combination of hard and soft steel typical for Damast results in a finished product that doesn't break (like soft steel) while still offering good edge retention (like hard steel). The base materials of Damast steel are usually welded together. The steel layers are forge-welded according to a basic principle: Finer layers of steel are better and easier to join. It is not unusual to weld several hundred layers for one blade.
Today, Damast steel no longer plays a role in blade production due to the availability of mono steel products (made from one type of steel) offering the same properties achieved in Damast steel by combining two or more steel types. Damast steel is still appreciated for its decorative exterior and long history.