Juniper Wood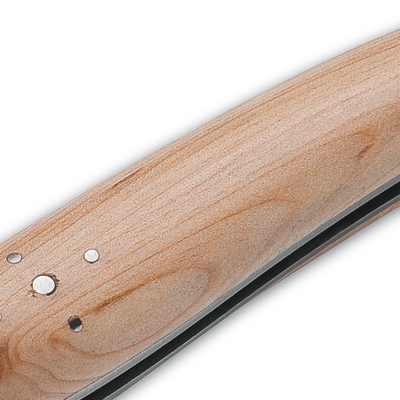 Juniper wood is used to make handle scales. Juniper wood has a yellow-brown color and a delicate, yet highly contrasting pattern. It is sturdy and tough but still easy to process.
Juniper is a genus in the cypress family. There are several different species, some of which are shrubs and some are trees. Juniper grows only in the northern hemisphere and is indigenous to Europe, North America, northern Asia and African regions north of the Sahara. The frugal plant thrives in the barren soil and sunny climate often found in mountain regions.
Juniper sapwood, which is not used to make knife handles, has a yellow color, while the hardwood is yellow-brown with a reddish purple or crimson hue. The processed wood has a light sheen.
Juniper wood has a fine texture, in which the slightly wavy age rings are clearly visible but separated by narrow red late wood segments. Unprocessed juniper wood has an intense but pleasant scent reminiscent of the oil of the camphor tree, a member of the laurel family. Juniper wood is very well suited for the production of handle scales, because it is strong and robust and holds up well to intensive wear and tear.
Juniper dries slowly and is easy to process and its dried state. For many centuries, juniper wood has been used to make everyday objects and artisanal pieces – knife handles, walking sticks, tobacco pipes and fine cigar boxes as well as precious inlays.