IKBS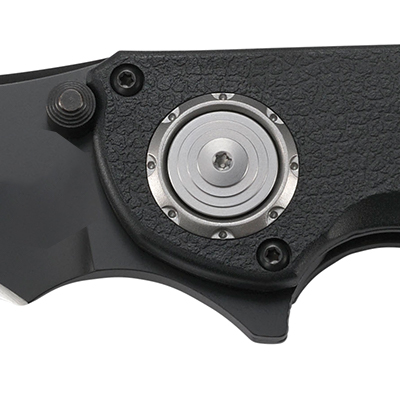 IKBS stands for Ikoma Korth Bearing System and denotes a ball bearings system used for folding knives. Knives equipped with IKBS are distinguished by their light, fluid blade movements and secure blade position.
IKBS was originally developed for butterfly knives, but the system is easy to use in most other types of folding knives as well. Today it can mainly be found in framelock knives and linerlock knives. Since the system consists of just a few components and takes up very little space, it is possible to integrate it into smaller variations of all folding knife types. The ball bearing of a folding knife must satisfy rather demanding requirements. It needs to rotate at high speed in order to open and close the knife quickly and hold up to the strong resistance of other objects coming into contact with the knife. One special feature of the IKBS ball bearing is that all bulky components of a ball bearing, such as inner and outer rings and the so-called cages normally encasing and separating the rolling elements, were stripped away to leave only the rolling elements themselves.
IKBS uses a bolt as the inner ring of the ball bearing, while the outer ring is replaced by ring-shaped grooves in the plates holding the rolling elements. These so-called cages are completely eliminated. The result is a very light ball bearing that takes up little space but is still fully functional. The IKBS rolling elements are made from different materials – from inexpensive carbon steel to precious ceramic – and can be replaced, if necessary.
One basic characteristic of IKBS is the secure blade positioning. If the blade does become a little loose after a while, it can be tightened by adjusting the screws on the bolt of the IKBS. The compact IKBS can be integrated into a wide range of folding knives.