Recurve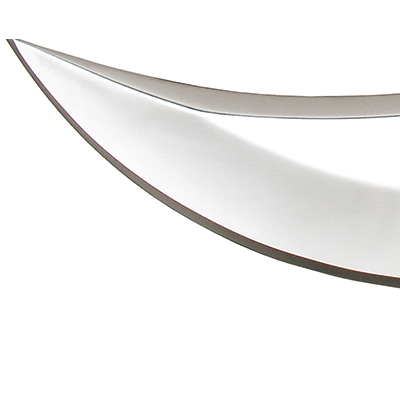 Blades with an edge that curves inward possess a so-called recurve grind. Recurve-ground blades are very well suited for cutting objects with a rounded or curved surface and for cutting rope.
Almost all blade types, including drop point blades or clip point blades, can have a recurve grind. The main characteristic of the recurve grind is its concave curved edge, reminiscent of an elongated letter S. Starting at the ricasso, the blade first tapers sharply and then widens again towards the point. Recurve-ground blades can handle many different cutting angles thanks to the concave edge. For this blade, it is very easy to cut through round materials, which is a significant advantage for pulling cuts. Recurve blades are mainly used for outdoor knives, as the curved edge makes it easy to work on sticks and branches. This blade type also has significant advantages for cutting rope.
A straight-edged knife cuts with the edge section just below the point (called the cutting bevel), which might slip off the rope. A recurve blade on the other hand cuts with the entire length of the curved edge. The rope sits snugly in the curve and cannot slip. Many outdoor knives have blades with a recurve grind, which come in very handy when rounded or curved materials need to be cut. One well-known example is the classic peeling knife mainly used for potatoes.
The curve of a peeling knife begins just below the point, much further to the front than in outdoor knives with a recurve grind. One disadvantage of recurve blades is that they cannot be sharpened on a whetstone, because they touch it at just two points without making full contact. These blades should be sharpened on a V-sharpener instead.