Rosewood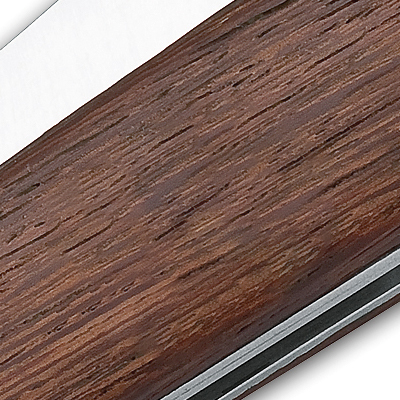 Rosewood is the trade name of the lumber harvested from trees of the Dalbergia genus. Rosewood is characterized by its dark coloring and striking pattern. It is also very hard and dense. In knife production, rosewood is used to make wooden handles.
Dalbergia species are indigenous to the tropical and subtropical regions of South and Central America, the Caribbean, Asia and Africa. They can present as trees, shrubs and lianas. Due to the large number of different species, they are all sold under the trade name of rosewood. Rosewood was one of the first types of lumber imported to Europe from European colonies overseas. As a tropical wood, rosewood is very rare. Some rosewood species, such as East Indian rosewood, have shrunk to very small populations. Other types of rosewood were protected by export regulations, including Brazilian or Bahia rosewood.
Most rosewood available today is Sheesham, a species indigenous to India and Pakistan that is mainly cultivated on plantations, which means that the lumber is not taken from natural tree populations. In terms of coloring and texture, rosewood products differ widely depending on the actual Dalbergia species and its origin. Generally speaking, rosewood has light-colored sapwood and dark heartwood in a range of hues from blackish brown to deep purple to almost pure black. Its striking streaks of color lend rosewood its characteristic marbled look and make each item a one-of-a-kind piece.
Rosewood must be dried slowly before processing to prevent cracks. Thanks to its fine pore structure, the processed wood has a very smooth surface. Apart from knife handles, rosewood is also used in interior design, furniture production and for building fine musical instruments.