Skinner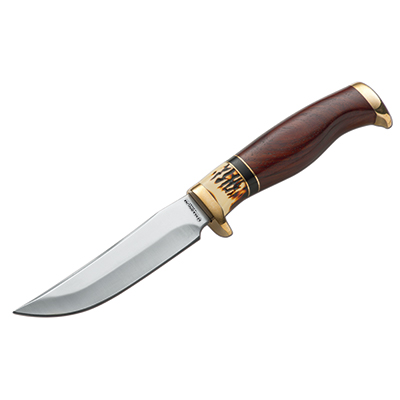 A skinner blade is used to skin hunted game. A variation of this blade type is used to gut the animal. The skinner blade is also known as a swept point blade.
Skinner blades or swept point blades have a strong curve that creates a pronounced "belly", while the point of the blade sits far above center. Thanks to these two properties, the edge of the blade has almost full-length contact with the cutting surface, while the point does not directly touch it. The curved-up point protects the animal\'s skin or fur from damage, while the pronounced belly of the blade makes skinning much easier.
Skinner blades or swept point blades used exclusively for skinning animals might possess a fully curved point, which gives the blade a scythe-like shape. If the blade is also needed to gut hunted animals, the curve should be less pronounced. Here, the spine either tapers gently towards the point (similar to a drop point blade) or the spine comes with a gutting hook that can be used to hook the blade into the game. Although a skinner knife or swept point knife can be used to gut and skin hunted game, these knives are not considered hunting knives, because they are not suitable for actually killing animals.