Bocote Wood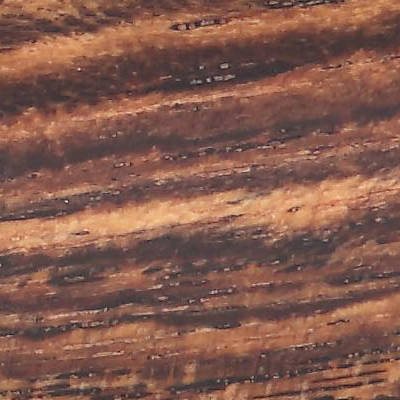 In knife production, Bocote wood is used to make handle scales. In North America, it is also known as Mexican rosewood.

Bocote (Cordia spp.) is a species in the Cordia family, predominantly native to the tropical regions of Asia, Africa and America. The dispersal area of Bocote is mainly located in Central and South America (Brazil in particular), also including some Caribbean islands. The population is concentrated in Mexico. Bocote trees grow between 20 and 30 meters tall with a trunk diameter of 1 to 1.5 meters.

The dry density (density of the completely dried wood) is 0.855 g/cm&sup3, which makes Bocote an extremely hard wood. It needs to be dried thoroughly before processing, but can be worked very well with the right tools. It is suitable for sanding and polishing. Due its high oil content, Bocote wood also lends itself well to gluing. It is rather robust and weatherproof. However, it can be susceptible to pest infestations and needs to be maintained with regular care. Bocote is not among the protected tropical woods.

The heartwood of the Bocote, which is used for making handle scales, has a striking yellow to light brown color with dark brown and sometimes black veins. While the colors do darken a little over time, the striking dark-light contrast between the wood color and the veining remains. Bocote wood is known for its many growth irregularities, which lend every piece crafted from this material an individual touch. The pores of Bocote wood are medium to large and arranged randomly. The fine wood is used for knife handle scales as well as for furniture, veneers and paneling, musical instruments and turnery.
.